125252, Moscow, 12 Aviakonstructor Mikoyan street
Phone: +7 (495) 664-81-71, fax: +7 (495) 664-81-72
2NK
Centreline-mounted, single-stage overhung pumps
type OH2 (API 610)

DESCRIPTION
2NK series pumps are intended for handling gas condensate, liquefied hydrocarbon gases, crude oil, petroleum products, chemicals and other liquids similar by physical properties (specific gravity, viscosity, density) and corrosion impact on the pumps construction materials. The pumps have been designed in full compliance with API 610 standard of the latest edition as the centerline-mounted, single-stage overhung pumps with radially split casing.

APPLICATION
Fractionation towers
Pumping systems
Processes

Refluxing
Condensate removal
Product feeding
Residues removal



Hot oil
Overhead products
Heavy fractions



Stirring
Injection
Circulation
Heat exchanging
Reactor feeding
TECHNICAL DATA

DESIGN FEATURES & ADVANTAGES
Newly designed flow path provides high efficiency of the pump with rated and optional rotors, retention of the rated performance with slightly trimmed impellers and increased efficiency with deeply trimmed impellers as well as decreased radial load and shaft runout leading to extended operational lifetime of bearings and mechanical seals
Heavy duty casing design rated for up to 64 bar operation pressure
Rigid shaft with increased diameters provides minimal deflection and runout that extends operational lifetime of bearings and mechanical seal
Suction and discharge nozzles design corresponds to ANSI/ASME and DIN/EN
The pump rotor can be pulled out without dismantling the casing and pipelines to simplify the maintenance operations
Hard-alloy wearing rings ensure the pump's performance throughout the whole operational lifetime
Optional screw-type inducer provided at the suction side for lowered NPSH
High-efficient cooling system keeps the casing and its bracket at a preset temperature for handling high-temperature liquids. The shaft-mounted fan is optionally available for better bearings cooling
Bearings lubrication system with improved efficiency provides their long operational lifetime
Reliable and durable steel membrane coupling reduces vibration and requires no maintenance

SHAFT SEAL
Seal chamber, being complaint with API 610 / ISO 13709 requirements, is designed to fit API 682 / ISO 21049 compliant seals of a cartridge type and provides necessary space for tandem and double mechanical seals installation.

MATERIAL OPTIONS
| | | | | | | | |
| --- | --- | --- | --- | --- | --- | --- | --- |
| | S-5 | S-6 | S-8 | C-6 | A-8 | D-1 | D-2 |
| Casing | Carbon steel (WCB) | 12% chromium steel | 316L AUS | 12% chromium steel | 316L AUS | Duplex steel | Super duplex steel |
| Shaft | AISI 4140 | AISI 4140 | 316L AUS | 12% chromium steel | 316 AUS | Duplex steel | Super duplex steel |
| Bearing housing | Carbon steel (WCB) | Carbon steel (WCB) | Carbon steel (WCB) | Carbon steel (WCB) | Carbon steel (WCB) | Carbon steel (WCB) | Carbon steel (WCB) |
| Impeller | Carbon steel (WCB) | 12% chromium steel | 316L AUS | 12% chromium steel | 316L AUS | Duplex steel | Super duplex steel |
PERFORMANCE RANGE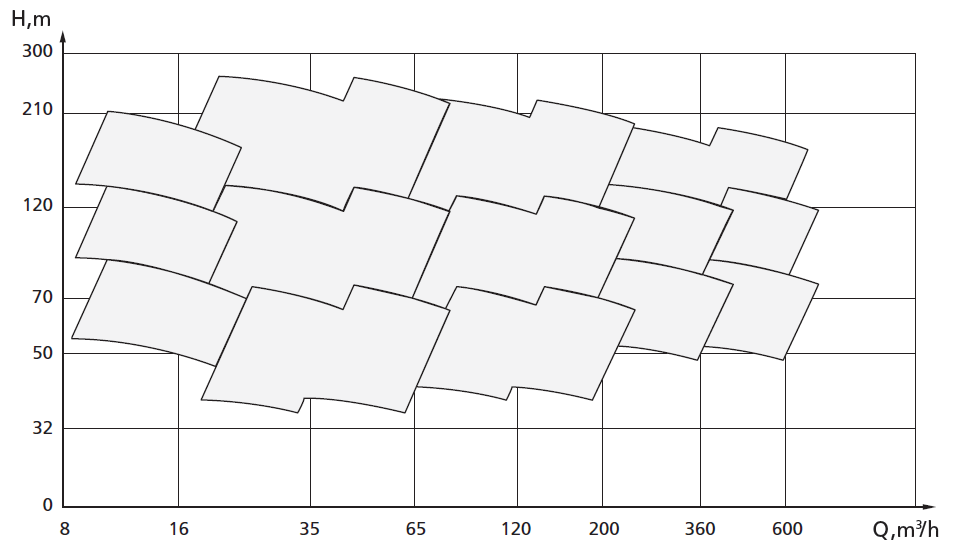 Back to the section
ТЕХНИЧЕСКИЕ ХАРАКТЕРИСТИКИ
Title
PCVExpo 2016
KIOGE 2016
Gas Forum 2016
WETEX-2016
ECWATECH 2016
PCVExpo 2016
KIOGE 2016
Gas Forum 2016
WETEX-2016
ECWATECH 2016
PCVExpo 2016
KIOGE 2016
Gas Forum 2016
WETEX-2016
ECWATECH 2016
PCVExpo 2016
KIOGE 2016
Gas Forum 2016
WETEX-2016
ECWATECH 2016
PCVExpo 2016
KIOGE 2016
Gas Forum 2016
WETEX-2016
ECWATECH 2016
PCVExpo 2016
Gas Forum 2016
WETEX-2016
ECWATECH 2016
PCVExpo 2016
Gas Forum 2016
ECWATECH 2016
PCVExpo 2016
Gas Forum 2016
ECWATECH 2016
PCVExpo 2016
Gas Forum 2016
ECWATECH 2016
The Russian Energy Forum and the exhibition ENERGY OF THE URALS 2021
The Russian Energy Forum and the exhibition ENERGY OF THE URALS 2021
The Russian Energy Forum and the exhibition ENERGY OF THE URALS 2021
The 20th International Exhibition PCVExpo «Pumps, Compressors, Valves, Actuators and Engines»
The 20th International Exhibition PCVExpo «Pumps, Compressors, Valves, Actuators and Engines»
The 20th International Exhibition PCVExpo «Pumps, Compressors, Valves, Actuators and Engines»
The 20th International Exhibition PCVExpo «Pumps, Compressors, Valves, Actuators and Engines»
The 20th International Exhibition PCVExpo «Pumps, Compressors, Valves, Actuators and Engines»
The 20th International Exhibition PCVExpo «Pumps, Compressors, Valves, Actuators and Engines»
The 10th St. Petersburg International Gas Forum (SPIGF-2021)
The 10th St. Petersburg International Gas Forum (SPIGF-2021)
The 10th St. Petersburg International Gas Forum (SPIGF-2021)
The 10th St. Petersburg International Gas Forum (SPIGF-2021)
The 10th St. Petersburg International Gas Forum (SPIGF-2021)
The 10th St. Petersburg International Gas Forum (SPIGF-2021)
The 10th St. Petersburg International Gas Forum (SPIGF-2021)
The 10th St. Petersburg International Gas Forum (SPIGF-2021)
The 10th St. Petersburg International Gas Forum (SPIGF-2021)
The 27th Kazakhstan International "Oil & Gas" Exhibition KIOGE 2021
The 27th Kazakhstan International "Oil & Gas" Exhibition KIOGE 2021
The 27th Kazakhstan International "Oil & Gas" Exhibition KIOGE 2021
The 27th Kazakhstan International "Oil & Gas" Exhibition KIOGE 2021
The 27th Kazakhstan International "Oil & Gas" Exhibition KIOGE 2021
The 27th Kazakhstan International "Oil & Gas" Exhibition KIOGE 2021
A leading trade fair for Waste Water & Water Treatment Technologies - Watrex Expo
A leading trade fair for Waste Water & Water Treatment Technologies - Watrex Expo
A leading trade fair for Waste Water & Water Treatment Technologies - Watrex Expo
29th International Specialized Exhibition of Mining Technologies
29th International Specialized Exhibition of Mining Technologies
29th International Specialized Exhibition of Mining Technologies
19th Trade Exhibition Power Industry of Far East 2021 Automation. Industrial Safety, Communications
19th Trade Exhibition Power Industry of Far East 2021 Automation. Industrial Safety, Communications
19th Trade Exhibition Power Industry of Far East 2021 Automation. Industrial Safety, Communications
The 19th International exhibition «Pumps, Compressors, Valves, Actuators and Engines» - PCVExpo 2020
The 19th International exhibition «Pumps, Compressors, Valves, Actuators and Engines» - PCVExpo 2020
The 19th International exhibition «Pumps, Compressors, Valves, Actuators and Engines» - PCVExpo 2020
The 19th International exhibition «Pumps, Compressors, Valves, Actuators and Engines» - PCVExpo 2020
The 19th International exhibition «Pumps, Compressors, Valves, Actuators and Engines» - PCVExpo 2020
The 19th International exhibition «Pumps, Compressors, Valves, Actuators and Engines» - PCVExpo 2020
Egypt Petroleum Show – EGYPS 2020
Egypt Petroleum Show – EGYPS 2020
Egypt Petroleum Show – EGYPS 2020
The 22-nd Abu Dhabi International Petroleum Exhibition & Conference – ADIPEC 2019
The 22-nd Abu Dhabi International Petroleum Exhibition & Conference – ADIPEC 2019
The 22-nd Abu Dhabi International Petroleum Exhibition & Conference – ADIPEC 2019
The 18th International exhibition «Pumps, Compressors, Valves, Actuators and Engines» - PCVExpo 2019
The 18th International exhibition «Pumps, Compressors, Valves, Actuators and Engines» - PCVExpo 2019
The 18th International exhibition «Pumps, Compressors, Valves, Actuators and Engines» - PCVExpo 2019
The 18th International exhibition «Pumps, Compressors, Valves, Actuators and Engines» - PCVExpo 2019
The 18th International exhibition «Pumps, Compressors, Valves, Actuators and Engines» - PCVExpo 2019
The 18th International exhibition «Pumps, Compressors, Valves, Actuators and Engines» - PCVExpo 2019
The 18th International exhibition «Pumps, Compressors, Valves, Actuators and Engines» - PCVExpo 2019
The 18th International exhibition «Pumps, Compressors, Valves, Actuators and Engines» - PCVExpo 2019
The 18th International exhibition «Pumps, Compressors, Valves, Actuators and Engines» - PCVExpo 2019
The 18th International exhibition «Pumps, Compressors, Valves, Actuators and Engines» - PCVExpo 2019
The 18th International exhibition «Pumps, Compressors, Valves, Actuators and Engines» - PCVExpo 2019
The 18th International exhibition «Pumps, Compressors, Valves, Actuators and Engines» - PCVExpo 2019
The 9th St.Petersburg International Gas Forum
The 9th St.Petersburg International Gas Forum
The 9th St.Petersburg International Gas Forum
The 9th St.Petersburg International Gas Forum
The 9th St.Petersburg International Gas Forum