125252, Moscow, 12 Aviakonstructor Mikoyan street
Phone: +7 (495) 664-81-71, fax: +7 (495) 664-81-72
CNS pumps for water descaling

Application:
water descaling in steel industry.

Operating parameters:
Capacity range: 30 - 1000 m3/h
Head: up to 2400 m
Efficiency: up to 83%
Max operating pressure: up to 270 bar

Material selection:
| | |
| --- | --- |
| Casing | ASTM 352/352M with corrosion-resistant surfacing |
| Impeller and diffuser | AISI 420 and AISI 420F |
| Shaft | AISI 5135, AISI 5135 H, AISI 5140, AISI 5140 H |
| Sealing | Gland or mechanical seal |

Performance range: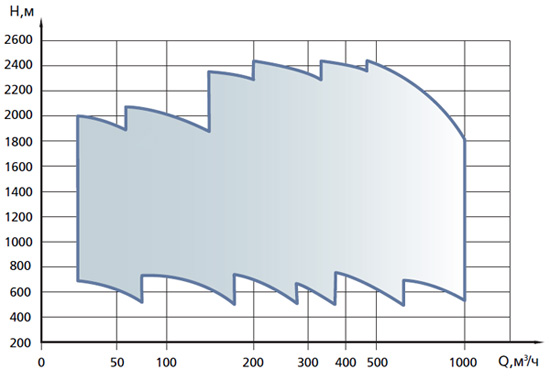 Features. Advantages. Benefits:

Reliability
Wear-resistant replaceable wearing rings made of new special materals.
Pull-off device for hydraulic balancing disc for guaranteed clearance between rotor and stator parts in off-loading unit at the pump start/stop for longer life of hydraulic balancing disk device.
Bearings vibration and temperature sensors installation spots provided in the bearings housings.

Easy Installation/Maintenance
Mechanical seals complied with API 682 to ensure application of seals from various manufacturers.
Flanges according to DIN / ANSI / ISO (option).
Maintenance-free elastic diaphragm coupling to reduce vibration.
Pump is supplied on separate baseplate or on a general baseplate with motor (option).

Low Costs Of Operation
Bearings come with forced or oil bath lubrication.
Highly unified main parts between pumps of different sizes for low installation and start-up costs, reduced parts inventories, decreased maintenance costs, shorter downtime, and enhanced operability.
Stuffing box or mechanical seals application. Cyclone separators (option) for solids-contaminated liquids.

CNS Pumps For Water Descaling: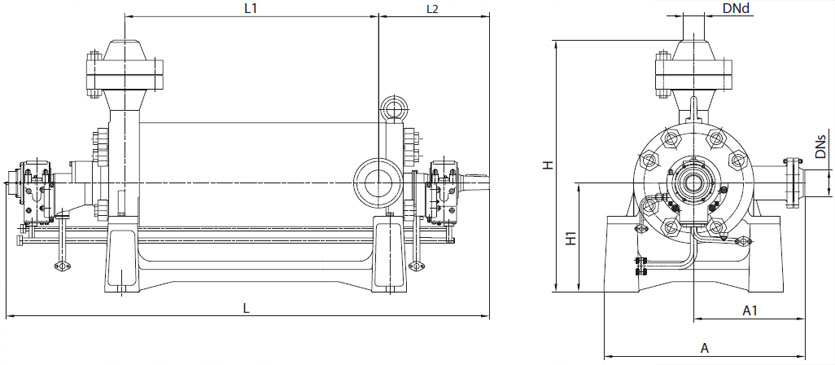 Model

DNs

DNd

А

А1

H

H1

L

L1

L2

CNS 30-800-2

80

65

730

345

1060

490

2120 (2420)*

1059

510

CNS 30-1050-2

700

440**

1290

650

2490 (2790)*

1237

635

CNS 30-1422-2

2595 (2895)*

1342

CNS 45-1050-2

150

125

1210

670

1425

565

2220 (2520)*

902

625

CNS 45-1422-2

1515

655

2505 (2805)*

1187

CNS 45-1900-2

2885 (3185)*

1567

CNS 63-1050-2

1425

565

2220 (2520)*

902

CNS 63-1422-2

1515

655

2505 (2805)*

1187

CNS 63-1900-2

2885 (3185)*

1567

CNS 90-1050-2

1425

565

2220 (2520)*

902

CNS 90-1422-2

1515

655

2505 (2805)*

1187

CNS 90-1900-2

2885 (3185)*

1567

CNS 120-1050-2

1425

565

2220 (2520)*

902

CNS 120-1422-2

1515

655

2505 (2805)*

1187

CNS 120-1900-2

2885 (3185)*

1567

CNS 180-1050-2

1425

565

2220 (2520)*

902

CNS 180-1422-2

1515

655

2505 (2805)*

1187

CNS 180-1900-2

2885 (3185)*

1567

CNS 240-1050-2

1425

565

2220 (2520)*

902

CNS 240-1422-2

1515

655

2505 (2805)*

1187

CNS 240-1900-2

2885 (3185)*

1567

CNS 315-1050-2

200

150

1275

685

1635

675

2407 (2707)*

955

640

CNS 315-1422-2

2715 (3015)*

1261

CNS 315-1900-2

3020 (3320)*

1567

CNS 500-1050-2

300

200

1330

685**

1727

790

2209 (2509)*

832

730

CNS 500-1422-2

2346 (2646)*

969

CNS 500-1900-2

2620 (2920)*

1243

CNS 630-1050-2

2209 (2509)*

832

CNS 630-1422-2

2346 (2646)*

969

CNS 630-1700-2

2620 (2920)*

1243

CNS 630-1900-2

2620 (2920)*

1243

CNS 720-1050-2

2209 (2509)*

832

CNS 720-1422-2

2346 (2646)*

969

CNS 720-1900-2

2620 (2920)*

1243
* Dimension in brackets is given for version of the CNSz pump with hydraulic balancing disk device
** Suction nozzle is directed vertically upwards
Back to the section